ASIA ECONOMIC DIALOGUE 26th - 28th February, 2021. THEME: "Post Covid-19 Global Trade and Finance Dynamics"
Posted on : 25-02-2021 | Back | Print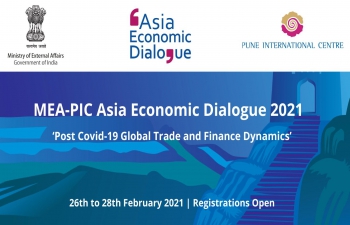 ASIA ECONOMIC DIALOGUE
1. The Asia Economic Dialogue (AED) jointly convened by the Ministry of External Affairs (MEA) and Pune International Centre (PIC), is the flagship geoeconomics conference of the MEA.
2. The fifth edition of the AED, and the second one organised by PIC will be held from Friday, 26th February to Sunday, 28th February 2021. The theme for this year's conference is "Post Covid-19 Global Trade and Finance Dynamics".

3. The AED 2021 is going to be entirely virtual and will see participation from not only Foreign Ministers of Asian countries, and senior government officials, but also officials from multilateral organisations as well as industry leaders.

4. Registration for AED 2021 can be done via the link provided in the invite below and the programme of the AED 2021 is appended with this email.
Link: https://puneinternationalcentre.us10.list-manage.com/track/click?u=bf76bb6b342010e4a3eb7cf03&id=d421b57afb&e=3616bdbd8b
Go to Top | Back | Print